It's that time of year – the leaves are turning red and brown and the trees are becoming skeletal. It's Autumn, which means one thing, Halloween is here. The strangest, spookiest and weirdest day of the year by far, Halloween is all about things supernatural, and has been celebrated from the depths of history.
I've featured some old photos around here before, being a collector of spooky old photos and other similarly themed pictures from days gone by. One of my passions is for old photographs of Halloweens long past. There's something incredibly spooky about old Halloween photos, the strange masks, the visible presence of the mists of time found in aged photos, the strange decorations and more all make these photos both poignant, eerie and desirable to me.
For a number of years I've been collecting these photos from a number of sources, ranging from the early 1900s through to the present day. Just in time for Halloween I thought I would share with you some of the finest pictures in the collection. If you'd like to see more, then there's some over at the Happy Halloweens Facebook page, and others at the Happy Halloweens website. Enjoy this trip through the last 100 years or so of Halloween, and have a great October the 31st!
The Pumpkin Queen
Not only is this one my favourite pictures from my collection, it's one of my all time favourite photos full stop! I have no idea of the origin of this photo and feel privileged to be the temporary guardian of it. I think it must be from the 1930s, but could be earlier. That mask is amazing, that pile of pumpkins is amazing and the full on American Gothic mood is stifling. I love her.

Freddy And The Dog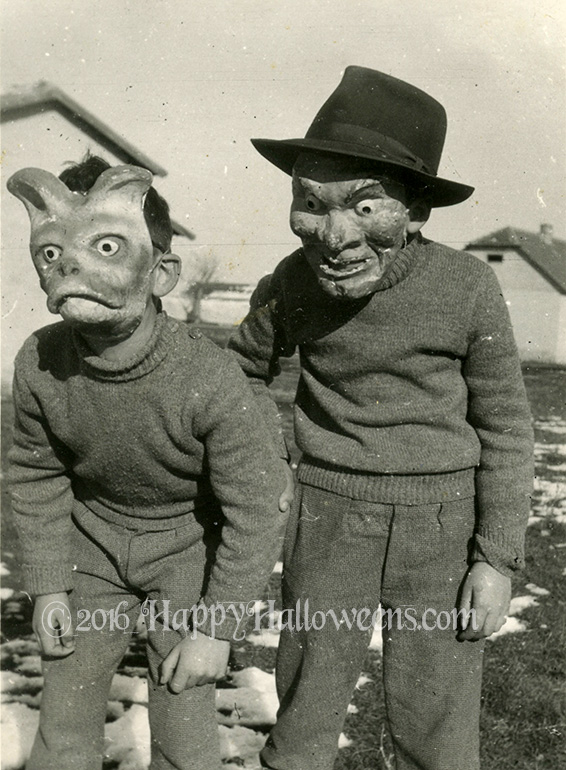 I'm dating this one to the 1940s, and good grief, Freddy Kruger has nothing on this kid, and his pet dog!

Five In The Snow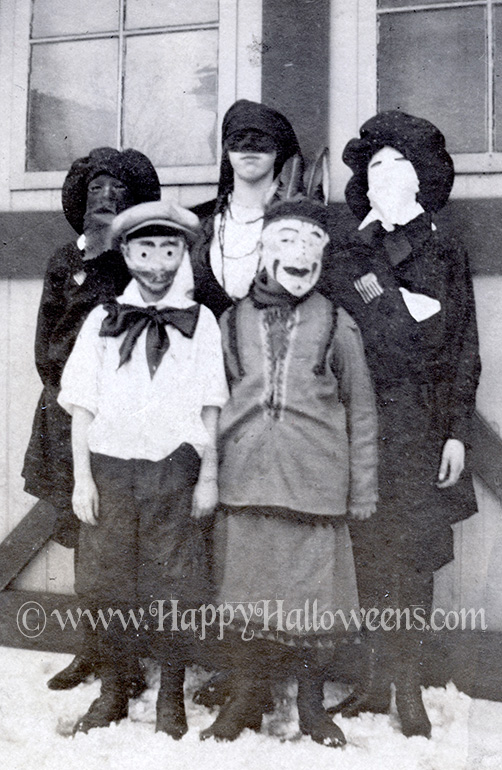 This one we're dating to the 1920s, given their dress and the masks. A strange collection of children doing with strange garb. Chilling stuff!

Clown And His Mom
Given the spooky clown sightings of recent years, I think it's right to remind people that clowns are people too. And to prove it here's one evil mofo clown. With his mum…
The Elias Children
All we know about this evil looking brood is that their surname is Elias. I think this photo dates to the 1930s or 1940s. Either way this evil-looking little brood chills us to the marrow.

The Scary Mom
That's it mom, sneak up on your children and deliver to them the fright of their lives. Yeah.

Strange Mothers
This pair of doting mothers dates to 1925. Nothing remotely disturbing about them there masks at all. Nothing…

Four Grotesques
Just four wonderfully old masks and costumes here, that I guesstimate date to some time in the 1920s.

Waving Clown
I don't know why people find clowns so scary. Hang on a second. Wait right there. Yes, now I can see it… This wonderfully odd looking clown dates from I'm guessing, the 1950s. Spooky as.

School Group – Sharpsville Pennsylvania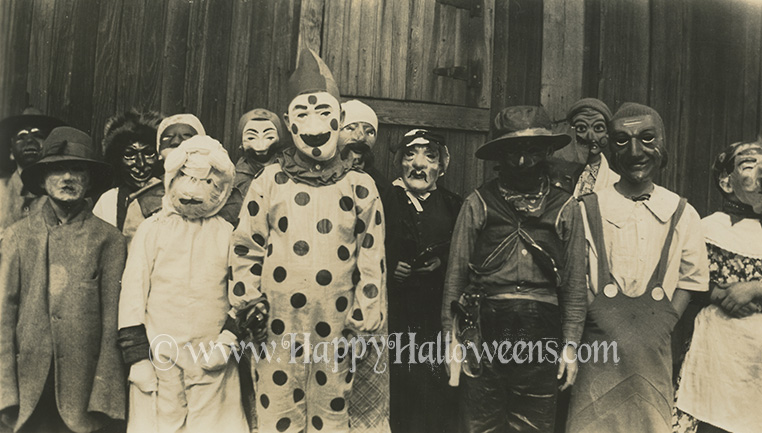 I'm not sure when this photo was taken – sometime in the 1930s maybe? But, I do know where. The location is Sharpsville, Pennsylvania. What a great photo, what a great group of scary as hell masks!