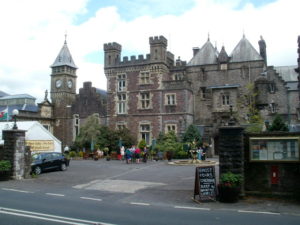 Craig-Y-Nos Castle, Powys, Wales
Located on the edge of the Brecon Beacons and built on parkland near the River Tawe. Craig-Y-Nos Castle is a Victorian gothic country house built by Captain Rice Powell in 1843. The history of Captain Powell is steeped in superstition, as it is claimed the family was cursed due to their bloodline relationship with the Dutch Overbeek family, who Captain Powell swindled out of an inheritance.
The castle and surrounding parkland was then purchased by opera singer Adelina Patt in 1878 for £3500 with a view to developing it as her own private estate. She spent the rest of her life at the castle and only leaving it to tour America and to sing to packed out opera houses across Europe. Her last public appearance was in October 1914 when she sang to sang for the Red Cross to a filled out Albert Hall. After the death of Adelina Patti in 1919, the grounds were sold to the Welsh National Memorial Trust for £11,000.00 in March 1921, this organisation was developed to combat tuberculosis across Wales. Redeveloped as a sanitorium it was called the Adelina Patti Hospital at the request of her widower. The first patients were admitted in August 1922 and in 1947 the children of Craig-Y-Nos were among the first to receive the antibiotic'Streptomycin' to help fight TB. In 1959 it then became a hospital for the elderly before shutting its doors as a hospital on 31st March 1986.
The castle is subjected to intense paranormal activity and has been the host for Living TV's 'Most Haunted' series. Reports of activity include a woman that is believed to be Adelina Patti, along with reports of her second husband French tenor Ernesto Nicolini wondering the castle and scaring visitors with unexplained noises and reports of cold air being blown on the necks of guests and staff of the hotel. Footsteps are heard all around the building and when investigated it is reported that there is no-one in the vicinity, visitors have also reported breathing difficulties and a feeling of a lingering presence of patients who were hospitalised there during the time as a sanitorium. In the kitchen pots and pans have reportedly flown off the surfaces to go crashing to the floor. However, the most active room in the castle is that of the children's ward, with full body apparitions being seen and the sounds of children's footsteps running around along with the sound of bouncing balls and giggling.
Check out this episode of Most Haunted and let us know what you think, you may have even visited the hotel and experienced something supernatural. If you have please tell us in the comments section below!