Haunted paintings have been a staple of eBay since the original one – Bill Stoneham's 'The Hand Resists Him' caused a storm back in 2000. Maybe the original was haunted, but as soon as a something like that happens, you get a raft of copycat's trying to cash in. In fact, if you look below you'll see the most recent haunted paintings at eBay, and there's a ton of them.
However, today this one caught our attention, as much for the asking price as the actual painting itself and the claims made about it. The painting is untitled and by an unknown artist, it's obviously inspired by Edvard Munch's 'The Scream' and is full on freaky.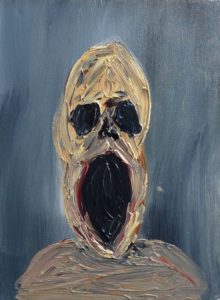 The painting is for sale at a whopping £15,000, which we think is a bit overly optimistic. Would you buy it? Well, here's what the seller says about it:
Since owning this painting I have experience a number of strange paranormal events that cannot be easily explained these include hearing disembodied footsteps from elsewhere in the house, the sound of bird song appearing out of the air in the living room, and finally observing a heavy metal door latch lift by itself and the kitchen door open by itself. That was very unnerving. It's hardly surprising then that I haven't had this painting hung up but rather stuffed up in the loft gathering dust until now. The painting closely resembles the famed Anguished man painting that also reputed to is haunted that painting was found in Cumbria. Neither of the paintings are signed so knowing who the artist is was is anyone's guess, nor what was in the twisted mind of the artist when he painted this startling piece Why would you want this painting well it could make a great gift for a less than loved one. Or an interesting painting to hang in the guest bedroom to unnerve any visitor…
Hmm, ok – so should we believe the seller, we've checked the feedback and they sell a lot of art, but from what I've seen, none is haunted. So, could it be true, could it in fact be the case that this painting is really haunted and caused the effects he's mentioned? Well, we'll leave that to you? If you have £15,000 to spare and fancy giving it a punt, it can be bought here
. Be quick though, less than a day to snap it up!
Haunted Paintings
And like we said early, eBay's rife with it – take a look at the latest load you get in when searching for haunted paintings. Crazy!